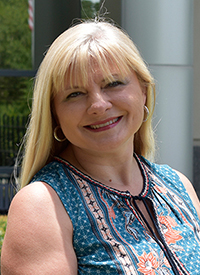 Tammie McClellan
Lab:
DIST
Mrs. Tammie McClellan is the Program Director for the Department of Information Systems Technology at UCF's Institute for Simulation and Training (IST).  She oversees the network infrastructure support services for the Institute, is a principal investigator and/or co-principal investigator for numerous IT sponsored research contracts, and supports various university departments with their IT requirements.
She has managed over $18 million in external and internal awards, providing information technology consulting, application development and systems support for a wide variety web based information systems. She and her team develop advanced applications to support data manipulation, workflow, and decision-making. Her range of clientele spans every branch of the U.S. Armed Forces, numerous commercial and non-profit agencies, and universities.
Her contributions to UCF and IST have been recognized through various awards and appointments to special projects by high ranking personnel within UCF and externally. Her support to the U.S. military services has been exemplary and well noted by its senior leaders.  She is an author/co-author and holder of multiple software copyrights, and successfully licensed several products to include the Academic Research and Grant Information System (ARGIS®), Enterprise Resource Scheduler, and a multi-view web-based calendar.
Education
M.S Research Administration, University of Central Florida

B.S. Business Administration, Accounting, University of Central Florida
Research Interests:
Cybersecurity
Decision Making
Information Technology
Areas of Expertise:
Network Infrastructure Support
Application Areas:
Academics
Defense
Education
Healthcare
Software Development