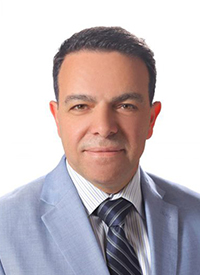 Ghaith Rabadi, Ph.D.
Graduate Program Director
Ghaith Rabadi is the Graduate Program Director and a Professor at the School of Modeling, Simulation and Training. Formerly he was a Professor of Engineering Management & Systems Engineering (EMSE) at Old Dominion University and former Vice President for Research & Development at Princess Sumaya University for Technology (2018 – 2020).  He received his Ph.D. and M.S. in Industrial Engineering from the University of Central Florida (UCF) in 1999 and 1996 respectively, and his B.S. in Industrial Engineering from the University of Jordan in 1992. Prior to joining the faculty at Old Dominion as an Assistant Professor in 2002, he was a post doc on NASA funded projects for one year and a Visiting Assistant professor at the Industrial Engineering Department at University of Central Florida (UCF) for another year.  He also worked as a Research Director at Productivity Apex, a modeling and simulation company based in Orlando, FL,  from 2000-2002.
He has published two books, and numerous journal and conference peer reviewed papers and book chapters. He received the NASA Faculty Fellowship where he worked at NASA Langley Research Center in Virginia as a faculty fellow. He was awarded with his colleagues the NASA Software Invention Award and the NASA Board Action Invention Award. His research has been funded by NASA, Department of Homeland Security (DHS), Virginia Port Authority (VPA), Northrop Grumman Shipbuilding, MITRE Corporation, STIHL, CACI, Sentara Hospitals and Qatar Foundation. He received the Fulbright Specialist Program award. His research and teaching interests include Planning and Scheduling, Operations Research, Simulation Modeling and Analysis, and Supply Chain Management and Logistics. He is a co-founder and is currently the Chief Editor for the International Journal of Planning and Scheduling.
Education
Ph.D., Industrial Engineering, University of Central Florida

M.S., Industrial Engineering, University of Central Florida

B.S., Industrial Engineering, University of Jordan
Appointments
Graduate Program Director, School of Modeling, Simulation, and Training, UCF

Professor, School of Modeling, Simulation, and Training, UCF
Highlights
Research Interests:
Operations Research
Planning and Scheduling
Simulation Modeling and Analysis
Supply Chain Management
Areas of Expertise:
Machine Learning
Optimization
Application Areas:
Aviation
Social Media
Transportation