The purpose of the Realistic Assessment of Performance in Devices (RAPID) Lab is to assess commercial and government off-the-shelf Virtual Reality (VR) and Augmented Reality (AR) technologies. For assessment various methodologies, such as in-house technology evaluations, Technology Readiness Levels (TRLs), and capability readiness, will be used to make empirically-driven decisions.
Evaluations of VR/AR technologies focus on current capabilities, deficiencies, specifications, costs, maturity and risks. From these assessments, the project seeks to develop a technology selection database grounded in technical and usability criteria.
RAPID Lab utilizes a three-phased approach to conducting technology evaluations for Head-Mounted Displays (HMDs). This 30-60-90+ approach (see Table 1) is defined by the approximate number of days spent conducting an evaluation, and the differing levels of effort necessary to meet desired goals. Each phase helps to inform a rating score.
Table 1. Three-Phase Technical Evaluation Layout
| 30-Day Evaluation | 60-Day Evaluation | 90-Day+ Evaluation |
| --- | --- | --- |
| Basic fact-checking | General task testing | Specific task testing |
| Out-of-the-box testing | Sample size of 1-5 | Sample size of more than 20 |
| Informs rating score | Informs rating score | Informs rating score |
Research Process Model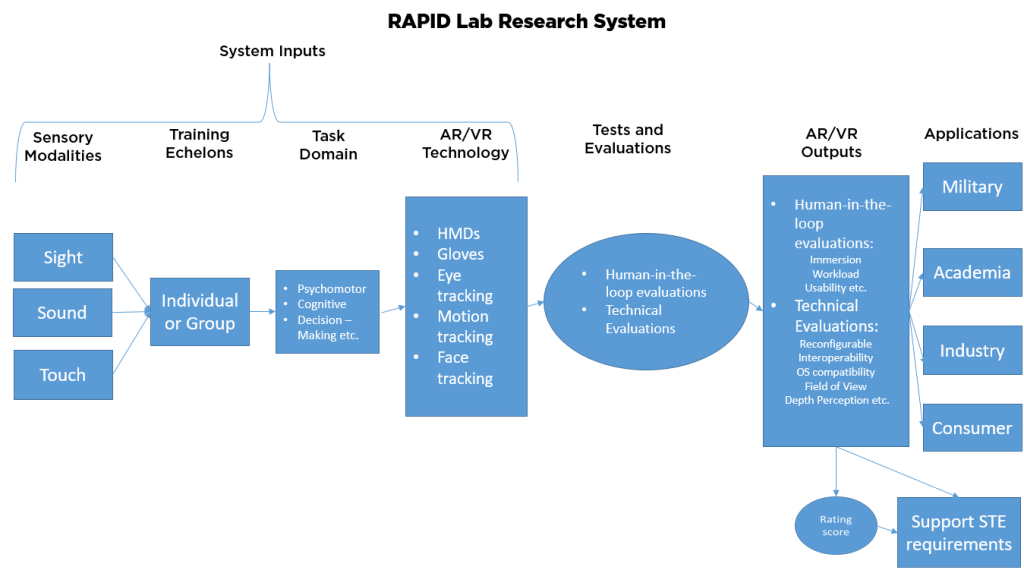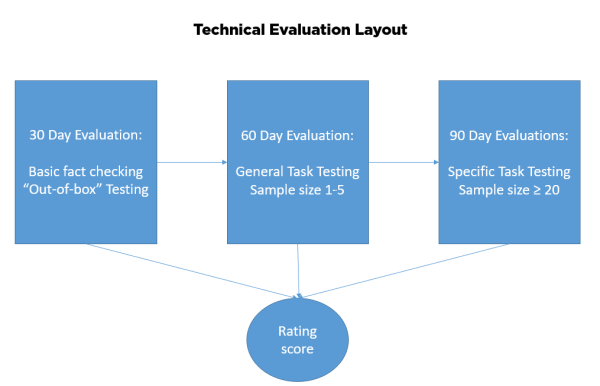 Test and Evaluations done by the RAPID lab also offers an extension to work done by the Robotics Club of Central Florida (formerly known as the Robotics Club at UCF).  Dr. Maraj serves as the faculty advisor to the club.
Robotics Club of Central Florida
The club consists of 50 + students pursuing various degrees, such as robotics, engineering, computer science, art, and web design.  To enhance collaboration and partnership within UCF, I have teamed up with professors from the College of Electrical and Computer Engineering and Mechanical and Aerospace Engineering to serve as technical advisors. As an interdisciplinary team of professors, we provide a wealth of knowledge, skills, and experiences to assist students with accomplishing project tasks. Students work on lab projects that are either competition-based or demonstration-based. These projects are built with a secondary purpose: they are used to educate elementary and secondary students about Science, Technology, Engineering, and Mathematics (STEM) fields.  Moreover, students from Robotics Club have since moved on to attain jobs at various companies, such as NASA, Lockheed Martin, Disney, and the government sector's Naval Air Warfare Center Training Systems Division.
If you are interested in joining the club, please see the club's website for more details regarding current projects and membership information:
People
Research Assistants:
The team acknowledges contributions from former students prior to 2021. If you are a former student and need a reference letter or support, please email Dr. Maraj directly. Please see below for a recent list of students:
Ancuta Radar (2023)
Jacey Koo (Pegasus Award Recipient: 2021 & 2022)
Christopher Francis (2022)
Habib Kalam (2022)
Kaitlyn Swift (2022)
Madylan Hudson (2021)
Marc Astacio (2021)
Joseph Pruitt (2021)
Melissa Marques (2021)
Hannah Singer (2021)
Amber Blatchford (2021)
Highlights
Research Areas:
Education & Training
Human Factors Design
Instructional Design
Medical Simulation & Training
Simulation-Based Training
STEM-Related Research Activities
Usability Testing
Capabilities & Advanced Technologies:
Augmented Reality (AR)
Head Mounted Displays
Mixed Reality
Virtual Reality (VR)
Virtual Technologies
Application Areas:
Academics
Defense
Education
Entertainment
First Response
Healthcare
Human Factors
Medical
Product Design
Software Development