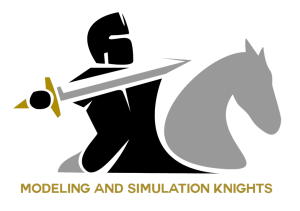 COVID-19 brought significant disruptions to on-campus classes and activities, making it challenging for SMST's Modeling and Simulation Knights (MaSK) club to continue fostering collaboration, networking, and socialization for students at the school. However, driven by the determination of club president Austin Starkin and his fellow officers, MaSK is experiencing a resurrection. In 2022, with the help of Dr. Sean Mondesire, director of SMST's Human-Centered AI Lab and MaSK's faculty advisor, the students of SMST began to revitalize MaSK. The 2023-2024 school year holds great promise for MaSK, as it plans to bring even more inspiring speakers from industry, government, and academia to engage with SMST students.
MaSK's start was rooted in social gatherings and informal interactions among students at the collaboration area within IST. Recognizing the potential of more structured engagement, members decided to formalize the club and turn it into an official platform for exploration and learning. The club's primary goal was to bridge the gap between theoretical knowledge and real-world applications by harnessing the power of modeling and simulation.
Last year, MaSK aimed to organize at least one event per month, often hosting lunch-and-learn sessions where guest speakers and faculty members presented innovative topics to students and families. The club featured events like the MaSK Talks, where students display their research and ideas in a collaborative and intellectually stimulating environment. Members even organized game socials and ventured to off-campus events.
A noteworthy milestone for MaSK was its affiliation with the Society for Modeling and Simulation, an esteemed organization founded by industry leaders. Being one of the earliest chapters, the club gained recognition and exposure on a broader scale. Additionally, MaSK regularly participates in ITSEC, an industry conference and platform where students can share their research and engage with industry professionals.
The future of MaSK looks promising as the club plans to host more activities, invite new guest speakers, and facilitate student-driven research sharing. MaSK aspires to increase visibility and attract more participants, further solidifying its status as a pioneering force in education.
MaSK is more than just an extracurricular activity at SMST. It symbolizes a movement toward a dynamic and experiential approach to education, where students immerse themselves in real-world simulations and connect with industry experts. The revival of MaSK and its aspirations for the future stands as a testament to the power of collaboration, innovation, and creative learning. It is an example of how forward-thinking institutions like SMST are reshaping the world of education, preparing students to become future leaders.
Be Informed

Stay Connected
By signing up, you consent to receive emails from us. Your information will be kept confidential and will not be shared with third parties.