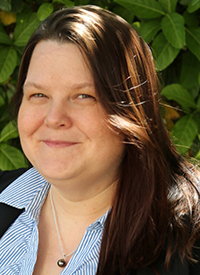 Rae Hanson
Research Associate, Information Architecture
Lab:
Rae Hanson is part of the Learning Design & Development team within the Institute for Simulation and Training's E2i Creative Studio and performs other duties as assigned in support of communications and administration of the School of Modeling, Simulation and Training.
As an information architect, Rae is continuously working to improve the learner experience with a focus on the design and development of learning management systems and multimedia interactive content. A storyteller at heart, she is always looking for the most effective way to tell the content's story to a learner.
Since starting at IST in 1997, Rae has worked for several different labs in various roles such as a web developer, configuration manager, graphics coordinator, and information officer. She has participated in the design, quality assurance, and maintenance of multiple online database-driven applications and interactive websites for the research and simulation community as well as being involved in the development of training programs for multiple sponsors.
Education
B.A., English: Technical Writing, University of Central Florida

A.A., English, Indian River Community College
Appointments
I/ITSEC 2023 Planning Lead, School of Modeling, Simulation, and Training, UCF

Interim Marketing Communications Manager, School of Modeling, Simulation, and Training, UCF

Director's Suite Support, School of Modeling, Simulation, and Training, UCF

Research Associate, Information Architect, Institute for Simulation & Training, SMST, UCF
Highlights
Research Interests:
Cognitive Flexibility and Workload
eLearning
Emerging and Advanced Learning Technologies
Learning Design
Metacognition and Human Performance
Narrative-based Learning
Areas of Expertise:
Communications and Technical Writing
Data Visualizations
Human Performance Gap Analysis
Information Architecture
Information Technology
Learning and Content Management Systems
Learning Solution Design and Development
Application Areas:
Academics
Defense
Education
Energy
First Response
Human Factors
Software Development
Training