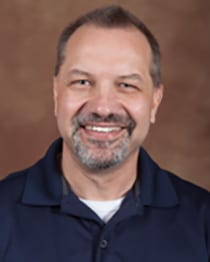 Florian Jentsch, Ph.D.
Joint Faculty
Professor
Director, Team Performance Lab
Lab:
Florian Jentsch, Ph.D., is Professor of Psychology with a joint appointment in the Department of Psychology and at the Institute for Simulation & Training (IST).  He is the current chair of the Department of Psychology.  Dr. Jentsch holds a Ph.D. (1997) in Human Factors Psychology, in addition to graduate degrees in Aeronautical Science and Aeronautical Engineering.  Dr. Jentsch has been directing UCF's Team Performance Laboratory since 2001, where he studies teams, training, and human-technology interaction. His research has been supported by over $8 million (his individual credit) in contracts and grants from the FAA, NSF, U.S. Army, U.S. Navy, and U.S. Department of Homeland Security.  Dr. Jentsch has recently been PI or co-PI on projects related to human-robot interaction and teaming for the U.S. Army and on pilot training and performance for the FAA.  He has published several books and co-authored over 250 articles, conference proceedings, and presentations. Dr. Jentsch has regularly taught the doctoral research methods courses for all three doctoral programs in the Department of Psychology, and he has been chair of 20 completed doctoral dissertations, and was Associate Dean for Research in the College of Sciences before assuming his current role as department chair.
Appointments
Chair of the Department of Psychology, University of Central Florida

Professor, Department of Psychology, University of Central Florida

Director, Team Performance Laboratory, Institute for Simulation & Training, University of Central Florida
Highlights
Research Interests:
Aviation Human Factors
Human-agent Teaming (HAT)
Team Performance
Training for High-Consequence Industries
Areas of Expertise:
Assessment
Augmented Reality (AR)
Psychometrics
Virtual Reality (VR)
Application Areas:
Aviation
Defense
Education
Space
Transportation