Inspiring the Future: SMST Seminar Series
The Inspiring the Future: SMST Seminar Series is a series of regular 1-hour talks given throughout each semester, where preeminent researchers share their work with a highly interdisciplinary audience that includes students, faculty, military personnel, and industry leaders. The seminar series focuses on innovative modeling, simulation, and human-subjects research techniques. Learn more about our next upcoming series talk and how to join us below.
Upcoming Talk: Delivering Trained and Ready
Simulation Professionals to the Army
When: Thursday, May 18, 2023
Time: 12:00 PM, EST
Location: Join us in person in the Partnership III Building, Room 233 [Directions]
or Virtually via Zoom, https://ucf.zoom.us/j/92048840880?pwd=TE5DdDVNZ2ZYREMrMEtQYkNLRmlWQT09
Talk Abstract: The Army Modeling and Simulation Office (AMSO) is responsible for the policy, training, and manpower requirements for both civilian and military simulation professionals. AMSO delivers trained and ready professionals through the use of formal military training, advanced civil schooling, and training with industry. AMSO hosts a 10-week course teaching the fundamentals of Army Modeling and Simulations. They also partner with the Naval Post Graduate School and the University of Central Florida working in Master's and PhD programs. AMSO also partners with Lawrence Livermore National Laboratories sending select military professionals to work in industry and learn from our corporate partners. AMSO's number one priority to the Army is providing a skilled professional workforce.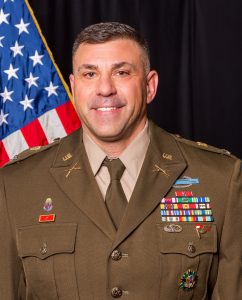 Speaker Biography: COL Verde serves as the Deputy Director of the U.S. Army Modeling and Simulation Office at Fort Belvoir, Virginia. COL Verde has served over 22 years as a Signal Officer, Infantryman and FA57 Simulation Operation Officer. His previous assignments include Director, Joint Multinational Simulation Center – Indo Pacific, Schofield Barracks, HI; Mission Command Training Support Program, Lead, HQDA G3 DAMO-TRS, Pentagon; Exercise Planner, United States Army Pacific, Fort Shafter, HI. COL Verde served in various operational assignments to include Signal Platoon leader, Division Automation Management Officer, Infantry Battalion assistant S3, Rifle Company Commander, Rifle Battalion Operations Officer, and DIVARTY Assistant Operations Officer. His awards and decorations include Bronze Star Medal, the Meritorious Service Medal, the Army Commendation Medal, the Army Achievement Medal, Pathfinder Badge, Parachutist Badge, and the Combat Infantry Badge. COL Verde graduated from Ohio University with a B.A. in Political Science, and earned Masters of International Relations from Webster University. He is a graduate of the Signal Officer Basic and Advanced courses, the Infantry Officer Advanced Course, and the U.S. Command and General Staff Course.
Assignments:
1997-1998        Fort Gordon, GA                Signal Course
1998-1999        Fort Hood, TX                    Platoon Leader, Asst S3
1999-2000       Camp Red Cloud, ROK   Division Automation Management Officer
2001-2003       Fort Bragg, NC                   Battalion Signal Officer
2004-2005       Schofield Barracks, HI   BN Asst S3
2006-2007       Fort Benning, GA              Infantry Advanced Course
2007-2009       Tiffin, OH                            Company Commander
2009-2011        Walbridge, OH                  BN S3
2011-2012         Fort Leavenworth, KS    CGSC Student
2012-2014        Fort Irwin, CA                    Chief of Simulations
2014-2016        Fort Shafter, HI                 Asst S3 and Exercise Planner
2016-2019        Pentagon, DC                      Lead, MCTSP
2019-2021        Fort Shafter, HI                 Director, JMSC-IP
2021-Present  Fort Belvoir, VA                 Deputy Director, AMSO