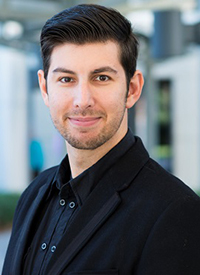 Joseph T. Kider, Ph.D.
Associate Professor
Co-Director, SENSEable Design Lab
Lab:
Joe focuses on the transdisciplinary digital design of smart sustainable architecture. He works on high dimensional light transport problems, such as complex illumination, material appearance, physically-based simulation, and spectral rendering, which facilitate a unique approach to provide both more accurate simulations and efficient algorithms for simulating sustainable architecture and smart buildings.
Education
Postdoc, Cornell University

Ph.D., Computer Science, University of Pennsylvania

M.S., Computer Science, University of Pennsylvania

B.S., Computer Science, The Catholic University of America
Research Interests:
Artificial Intelligence
Better Performing Building and City Design
Built Environment Impact on Humans
Digital Twins
Energy Efficiency in Building Design
High Dimensional Light Transport Problems
Human-in-the-loop Simulation Development
Humans Impact on Built Environment
Modeling and Simulation
Smart Cities
Areas of Expertise:
Augmented Reality (AR)
Building Information Modeling (BIM) Technologies
Simulation and Training
Simulations
Spectral Rendering
Application Areas:
Architecture
Construction
Modeling & Simulation
Smart Cities
Space